e-Boek Onderwysersweergawe op CD vir rekenaars: Via Afrika Geografie Graad 10 Onderwysersgids en Leerderboek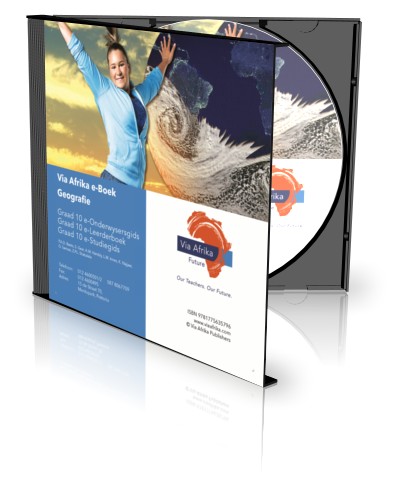 PDF of Teacher's Guide with additional web links as well as Interactive CD of Learner's Book embedded with videos, animation, sound clips and more enhancements for use on a PC.
---
Publication Date:
2011-01-01
Categories:
Learning material Subjects
Software Requirements:
Can be used on a Laptop or Desktop Computer.
Copyright:
© All rights reserved. No part of this book may be reproduced or transmitted in any form or by any means, electronic or mechanical, including photocopying, recording, or any information storage and retrieval system, without permission in writing from the publisher.
Purchase Details
Can be ordered directly from Via Afrika. Contact: 021 406 4322/3528 or e-mail: customerservices@viaafrika.com.
---