Macmillan Iinsombululo Zethu IsiNdebele Ibanga 10 Ikomba Katitjhere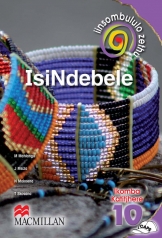 The Solutions for all programmes have been developed to support the content (knowledge, concepts and skills) contained in the National Curriculum Statement (NCS), as organised in the new Curriculum and Assessment Policy Statement (CAPS). The Solutions for all programmes have been organised to support teaching and learning in the classroom by presenting the material to be taught and practised in the classroom in discrete lessons.
---
Publication Date:
2011-01-01
Categories:
Learning material Subjects
Software Requirements:
Macmillan eReader app
Copyright:
All rights reserved. No part of this publication may be reproduced, stored in a retrieval system, or transmitted in any form or by any means, electronic, photocopying, recording, or otherwise, without the prior written permission of the copyright holder or in accordance with the provisions of the Copyright Act, 1978 (as amended). Any person who commits any unauthorised act in relation to this publication may be liable for criminal prosecution and civil claims for damages.
Purchase Details
Purchased online at www.macmillan.co.za
---