New Horizons - Pluto in a Minute
Free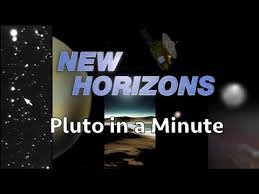 Pluto was discovered in 1930. The spacecraft called "New Horizons" was launched on Jan. 19, 2006. The goal was to answer questions about Pluto, its moons and Kuiper Belt objects. The spacecraft took nine years to reach Pluto. Mind blowing data was reported back via radio waves.
New Horizons conducted a six-month-long flyby study of Pluto and its moons in 2015. Multiple discoveries had been made as icy mountains on Pluto and a new view of its largest moon, Charon. New Horizons also observed four other moons of the Pluto system, namely Nix, Hydra, Styx and Kerberos.
NASA's New Horizons spacecraft will fly past "2014 MU69" New Year's Day 2019. This Kuiper Belt object, is already revealing surprises.
Watch the 33 one-minute videos and follow this ongoing journey of global space exploration.
---
Publication Date:
2017-10-13
Audience:
Learners
Teachers
Parents
Categories:
Learning material Subjects
Copyright:
Open Resource Material
---