Afrikaans ABC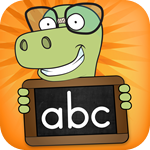 Afrikaans ABC is an Afrikaans educational app for young children that teaches the alphabet using child-friendly characters from the animal kingdom.
Xander, the lovable narrator, guides your child through six learn-through-play activities involving vision, hearing and touch to teach them to read and write in Afrikaans.
Afrikaans ABC consists of 6 games:
Hear and see the word
Trace each letter of the alphabet in small letters
Trace each letter of the alphabet in caps
Spelling with drag and drop
Narrated rhymes about each adorable animal
Letter recognition with matching game
Features:
Study letters in the font used by schools.
Associate letters with appropriate animal.
Practice pronunciation of Afrikaans words.
Learn about animals via cute rhymes.
Improve fine-motor skills and spelling using drag & drop exercises.
Xander Apps is a truly South African initiative, developed by a Stellenbosch-based mother of three children and incorporates widely accepted psychological findings on the importance of education in a child's mother tongue.
Your children can now engage with high-quality educational apps in the comfort of their home language, resulting in enhanced knowledge absorption and technical skills proficiency that can match global peers.
---
Publication Date:
2015-07-12
Audience:
Learners
Teachers
Parents
Software Requirements:
Requires iOS 6.0 or later. Compatible with iPhone, iPad, and iPod touch.
Copyright:
© 2015 Ever Africa
Purchase Details
iTunes Store. https://itunes.apple.com/za/app/id674036712
---